The 2019-2020 off season was the most tumultuous one the sport had endured since the Mitchell Report scarred the legacy of not only some of baseball's greatest sluggers but the character of the sport itself. The Astros cheating scandal, ignored and dismissed by the MLB despite several suggestions to look investigate, was blown wide open by whistle-blower Mike Fiers and the investigative journalism of baseball YouTubers and Twitter. The scandal itself was rocking, but the cleanup was completely botched by the unrepentant Astros leadership and the indifferent Commissioner Rob Manfred. Still though, the show must go on, as there are real MLB games being played in a month. Manfred is thanking his lucky stars for the passage of time and blog posts like this, which are focused on the season a-head and not calling for his.
1. Gerrit Cole and the Yankees win less than 100 games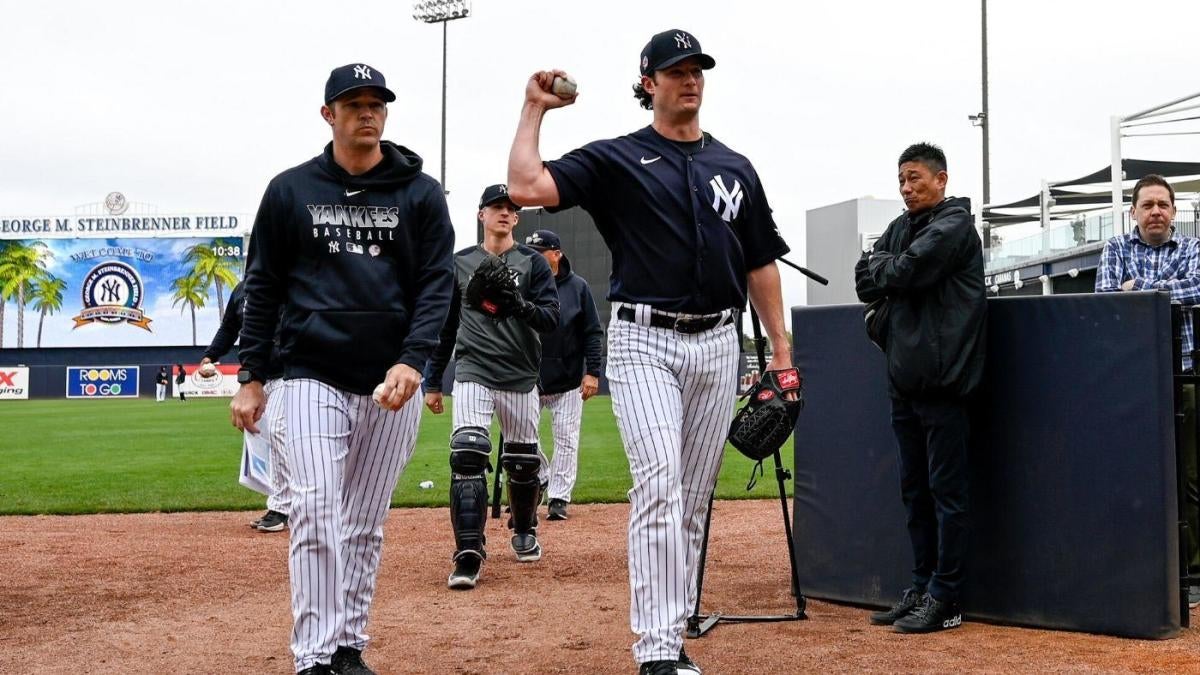 (CBS Sports)
The Yankees made sure that their World Series drought wouldn't be continued due to a lack of spending when they inked Gerrit Cole to a record deal this off season, but injuries to fellow starters Luis Severino and James Paxton drop a once fearsome rotation to merely above average. Still though, the Yankees enjoyed a fantastic regular season without Severino last year or fellow Spring Training injury victim Giancarlo Stanton. The Yankees backslide will have more to do with a regression to the mean for their motley crew of breakout stars from 2019 (Urshela, Tauchman, Ford, Voit) and an aging bullpen (29 year old Chad Green is the only core member under 30) than the injury storm that they seem to endure each season. The Yankees will still win 90+ games and contend for a title, but triple digits seems unlikely this year.
2. Their Former Crosstown Rivals win 105
(Joe Camporeale/USA TODAY Sports)
Shocker, we're not talking about the San Francisco Giants here. Los Angeles and New York have long been juxtaposed for their contrasting lifestyles and attitudes on opposite coasts as the two biggest cities and cultural centers of the United States. LA did the Yankees a favor getting superstar outfielder Mookie Betts out of rival Boston for the discount price of Alex Verdugo, prospect Jeter Downs, and the albatross contract of former ace David Price. Not to rub salt in the wound for Beantown fans, but Betts and Bellinger are the best lefty-righty duo in baseball since Manny and Big Papi terrorized the AL East fifteen years ago. With a dominant lineup, a healthy mix of fresh arms and veterans in their rotation, and a burning vengeance after it became public knowledge that the 2017 World Series was affected by the Astros sign-stealing (Clayton Kershaw threw over 50 off-speed pitches and got one swing and miss), the boys in blue will be both extremely talented and motivated.  The playoffs are anyone's game, but a weak division and historic lineup should make this a fun summer in the City of Angels.
3. The Angels Finish under .500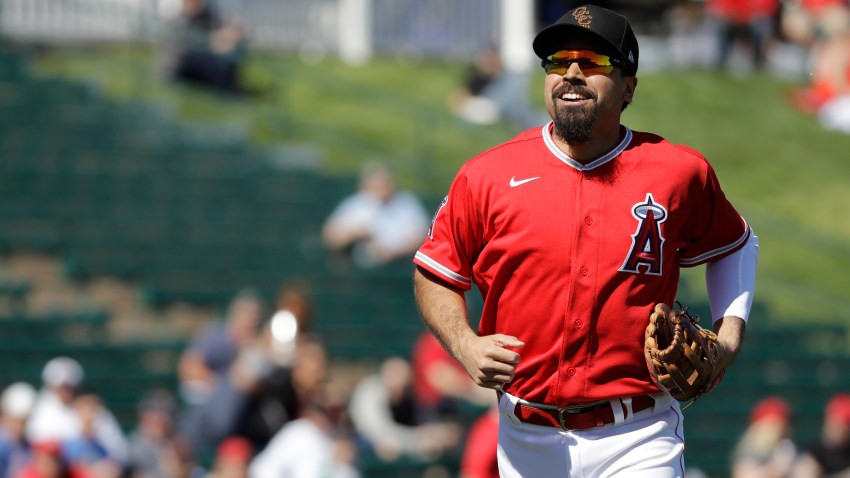 (AP Photo/Darron Cummings)
Even with Anthony Rendon bringing some much needed protection in the lineup for the super-human Mike Trout, the Angels still don't have enough pitching to make any real noise in a cutthroat AL West. Just one starter-the current San Francisco Giant Trevor Cahill-logged 100 innings last year, and the improvements they made (adding Dylan Bundy and Julio Tehran) don't move the needle. Not only do they have to contend with the A's and Astros in their own division, but other AL teams jostling for a wildcard spot are sure to include the Red Sox, Twins, Indians, and Rays, all of whom tout robust lineups sure to be licking their chops to face the flimsy Angels staff.
4. Four teams win 80 games in the NL Central, but only one wins 90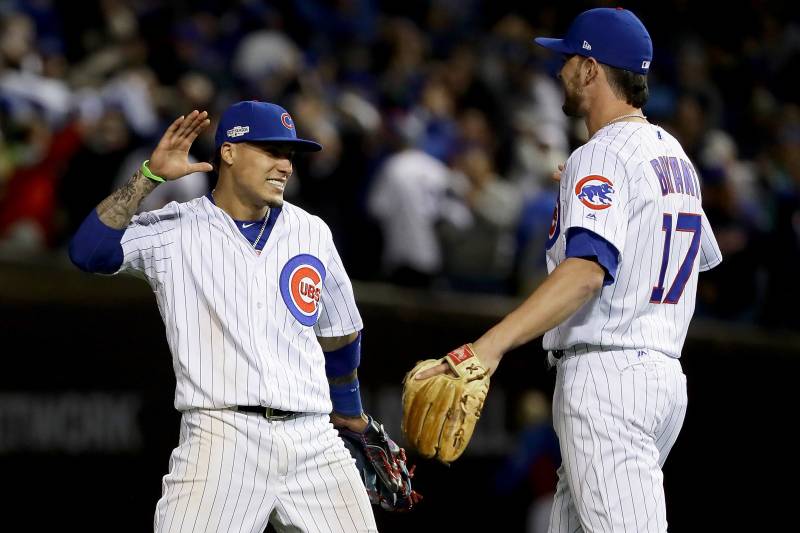 (Jonathan Daniel/Getty Images)
No division is more balanced than the National League Central, with three teams within spitting distance of each other and the young Reds right on their heels. What the Brewers have in superstar talent they lack in pitching. The opposite is true for perennial contender St. Louis. The Cubs collapsed down the stretch last season, but will always be in the mix with Bryant and Baez manning the left side of the infield at Wrigley. The Reds are intriguing-their rich farm system is starting to become Major League ready, and they signed slugger Mike Moustakas to play second base. There are no easy wins in the Midwest this season.
5. ← The Number of Games the Astros Will Miss the Playoffs By
(The Spun)
This was about as bad an off-season a team has ever had coming off a pennant winning season. Their ace left, they went from media darlings to the most hated team in baseball overnight, and they completely botched the PR apology campaign. The Astros will get every team's best shot, and endure a chorus of boos on the road in every ballpark. Psychological toll aside, the Astros got worse while every other team in the division (except maybe the Mariners) got better. The A's young arms are finally healthy, the Rangers added Kluber, and the Angels added Rendon. There's no rest for the Astros, though I guess they should have seen this coming.
6. The Phillies Win the NL East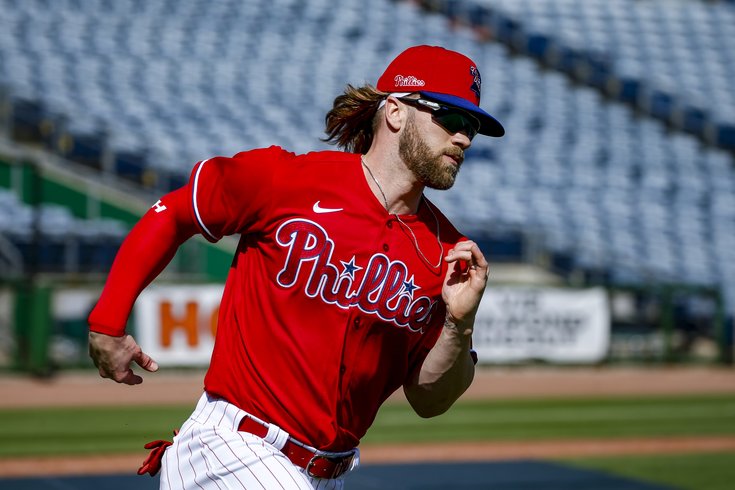 (Butch Dill /USA Today Sports)
This prediction is going out on a limb a little bit, especially for a team that finished fourth in the division last year. However, Philadelphia looks to be a different team this year with the addition of Zack Wheeler and a sure to be fired-up Bryce Harper following the Nationals' World Series victory. Harper struggled a bit in his initial season in the City of Brotherly Love, batting a mere .260, but has had a full season to acclimate to his new environment and has a history of yo-yo-ing his batting average from over .300 to under .270. The Braves and Nationals got weaker with the departure of their star third basemen, and the Mets, while talented, never seem to be able to stay out of their own way. That confluence of factors has opened the door for the Phillies to grab a playoff berth and possibly even home field advantage.
7. Matt Chapman Wins AL MVP
(D. Ross Cameron/ USA Today Sports)
It's always been tough for the East Bay's team to get national attention-even as one of baseball's best teams the last few season, most national stories regarding the Athletics seem to focus on the drama surrounding their sub-optimal stadium situation. Despite that, Matt Chapman has simply become too good to ignore. As part of a strong contender for baseball's best infield, Chapman has grown from defensive wizard to burgeoning slugger and full on MVP contender. The Astros cheating scandal has shed a brighter spotlight on both the often ignored AL West and the advanced metrics that measure Chapman as among baseball's best. A deep playoff push would be instrumental in getting the young A's some time in the limelight that they wholeheartedly deserve, but they may get there earlier than expected if Chapman keeps up his superstar level of play.
8. Minnesota Checks under Target Field for Yoan Moncada and the White Sox
(Getty Images)
Cleveland still has the superstar power in this division, but the Lindor trade rumors and penny-pinching attitudes from ownership may result in some uninspired ball this season. The Twins set home run records and added a top 30 position player in Josh Donaldson. It's the White Sox, however, who command the most attention this spring as they enter the realm of heightened expectations. The stacked farm system they endured so much losing for is coming to fruition, and the early returns are that the suffering was worth it. Last season, former top prospect bust Lucas Giolito threw down the gauntlet for best pitcher in the American League, Tim Anderson won a batting crown, and Yoan Moncada turned the corner to form a dynamic Cuban one-two punch with veteran Jose Abreu. This team is important for baseball-rocked by scandal, battered by declining viewership, and often maligned as "boring" compared to player driven leagues such as the NBA, the White Sox are young, fun and most importantly, good. Stud prospect Eloy Jimenez was great in his rookie year. They have four more prospects ranked in the top 50, including consensus top five prospect Luis Robert, expected to debut this year. Anderson's brash personality, combined with his electric play style, is exactly the type of player the MLB needs right now. The Sox may be a year away, but it'll be a fun one nonetheless on the South Side.
9. Twenty Years after Jeter, A-Rod, and Nomar, Shortstops are Back in Style
Correa and Lindor (NBC Sports)
It's not as if the position has been thin on talent in recent seasons, but the position has ascended to another level last season and in projections for 2020. Currently, there's six shortstops that could be argued as superstars-Lindor, Bogaerts, Story, Baez, Anderson, and Semien. Right on their heels are guys like Correa, DeJong, and Turner. Fernando Tatis Jr. and Bo Bichette are second year players who are in strong contention for All-Star spots this year. Tatis Jr. could easily win an MVP. Then there are guys like Rosario, Polanco, and Seager who are coming into their own. Counting defensive studs like Simmons, Iglesias, Crawford, and Swanson, the position is as deep as it has ever been, and maybe the deepest in baseball. Any team hoping to make a deep run in October needs a stud in the 6 hole.