Wyoming's signal caller has a cannon for an arm-but so did JaMarcus Russel.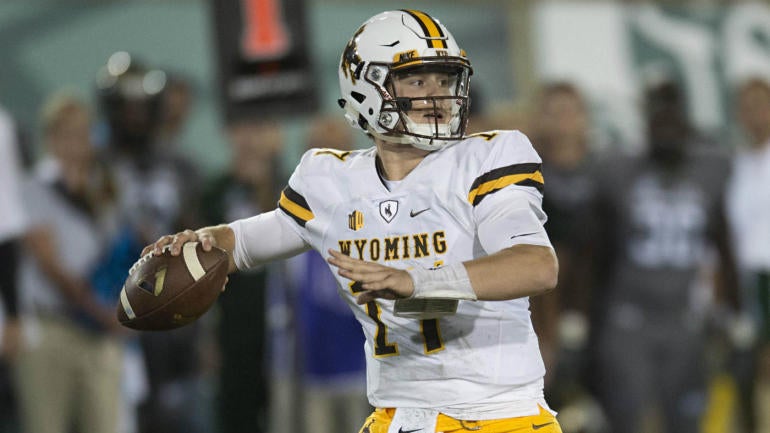 (USA Today Sports)
Josh Allen has gained momentum as the next small school quarterback to be drafted early after the rapid ascension of Carson Wentz from unheralded prospect to Number 2 pick and MVP candidate in just two seasons.
Like Wentz, Allen fits the physical profile of a franchise QB a tall country boy with a rocket launcher attached to his right shoulder. But Allen comes with many of the same concerns Wentz did-and those concerns be warranted in Allen's case.
As a small school quarterback, it's tough to gauge how Allen will perform against NFL caliber athletes. Although the Mountain West is an FBS division and a clear step up from Wentz's North Dakota State schedule, it can be difficult to differentiate between carving up the University of New Mexico's secondary and throwing darts through tight windows against NFL caliber talent.
Watching Allen's tape, his arm is uncanny. Every conversation begins around that arm strength-and it has to. Allen will sit in the pocket for a couple seconds, then meander outside of it to his right, with defenders closing in all the while. Then, a big shuffle step and Allen will uncork a throw with the flight pattern of a long fly ball, wobbling precipitously all the while. Miraculously, it'll land in the hands of a jubilant wide receiver in the endzone, with the entirety of the state losing their collective minds as Allen grins like he knew it all along.
And so NFL scouts see that arm, consider the possibilities with some NFL coaching, and envision the country boy flinging shots into places no one else can in a conference championship game. They see Wentz and Brett Favre, small school QB's with big time arms. They see gunslingers like Carson Palmer and Matt Stafford leading long downtrodden squads to the promised land.
But for every Wentz and Favre, there's a Brandon Weeden and Jeff George. Arm strength is not everything in the NFL, and in his limited opportunities against Power 5 teams Allen has looked shaky and inconsistent against the ramped up pace of play.
The combine and pre-draft process is crucial for Allen. That's where Wentz separated himself from a big arm with no pedigree to a legitimate contender for the first overall selection.
Allen is worth keeping an eye on-arms like that don't grow on trees. But to draft him first overall, or even in the first round, would be a mistake based on the information currently available.