Drew Brees or Johnny Manziel?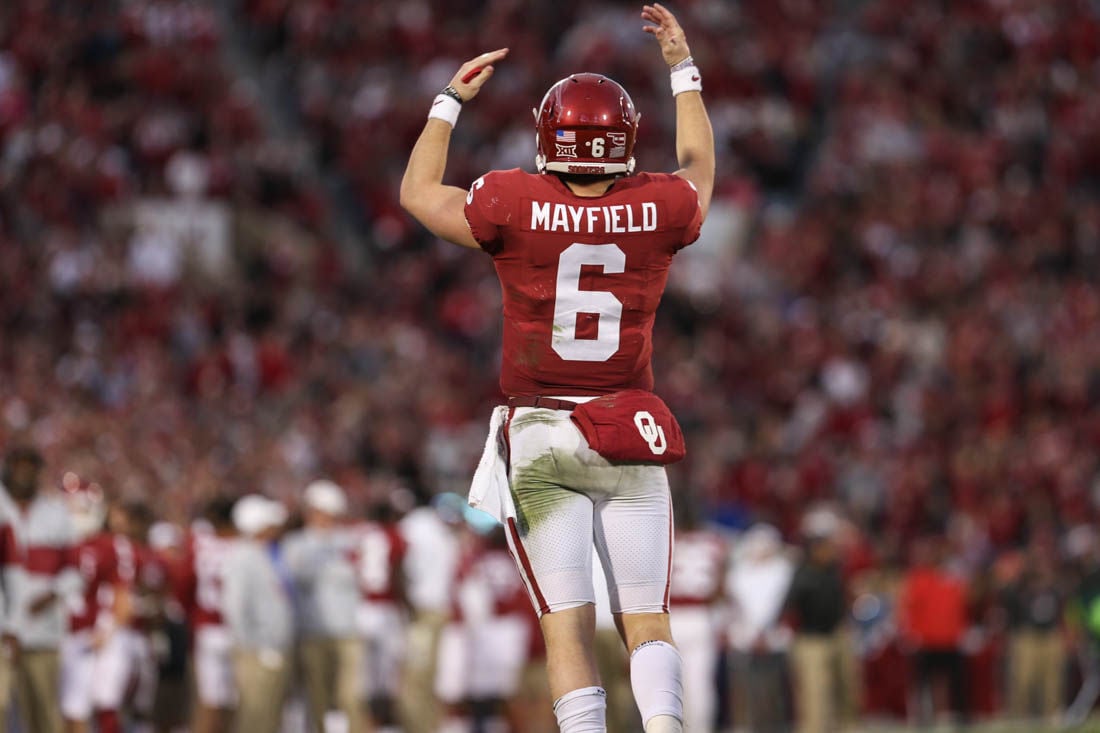 (Paxson Haws/The Daily)
If quarterback decisions were made solely on statistics, Baker Mayfield would be the unquestioned first overall pick. If they were based on measurables, he wouldn't crack the third round.  The opposition of the two most important metrics regarding QB evaluation has turned Mayfield into one of the most interesting prospects of the last decade.
Personally, I wasn't sold on Mayfield at midseason. Sure, he put up video-game numbers, but he was shredding Big 12 defenses that couldn't punch their way out of a paper bag. Lighting up Kansas or a downtrodden Baylor program is no indication of NFL success. While the height question was holding everyone back, the quality of opposition was just as pressing of a concern for NFL teams.
Mayfield's accuracy and velocity are both top notch. His performance against NFL quality defenders in the CFB Playoff semi-final against Georgia was immaculate. Time after time Mayfield stepped up and made clutch throws to keep Oklahoma in a game where their defense was demonstrably outmatched.
The tape from that game was enough to solidify Mayfield's status as a first round pick. Unfortunately, there are few teams that need a QB outside of the top 5. If he slips past the Broncos at number 5, it could be a long wait before he hears his name called.
Mayfield's composure in the pocket and accuracy, coupled with the gaudy statistics he produced in Norman place him above Josh Allen for me, but below Darnold and Rosen, who both possess all of Mayfield's arm talent but add to that the height desired by NFL scouts.
The trash-talk, swagger, and general arrogance will rub some fans the wrong way, but it may be genetics that unsettle NFL teams. His height will remain at question until he proves the doubters wrong. He could be well on his way to making a lot of people look very foolish.